, "Antiquing" is not only buying, selling and collecting antiques, but includes learning about them and enjoying them.
A good way is to actually see the real thing. Historic Houses, Villages, Seaports & Museums are educational institutions
as well as displays. Most offer courses and seminars as well as lectures when you "take the tour".
Email us to get your site listed here.
E-mail Address:NE Antiquing
****
---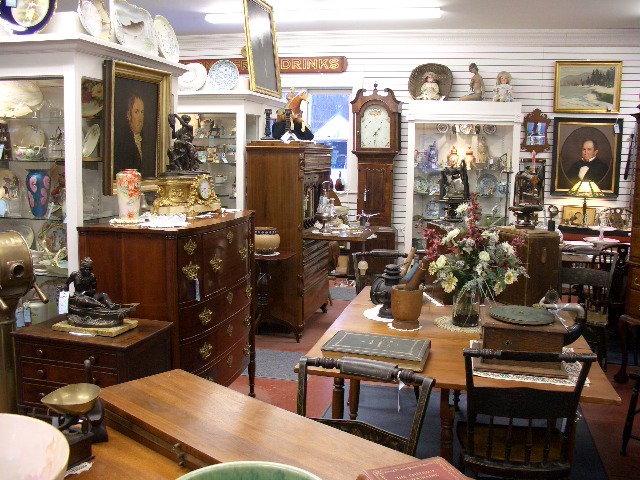 Sir Richards Antiques Center
Waterbury - Stowe - Vermont
"Two high quality shops carrying 18th, 19th and early 20th century American
and Continental furnishings in every category pertaining to our past.
Open 7 days."
LIMOGE ANTIQUES
-On-line Photo-Inventory
62 Merchants Row
Rutland, VT 05701
Large Photo-Inventory.
Ordering by phone or mail.
WILLISTON ANTIQUE CENTER
64 Harvest Lane
Williston, VT 05495
Vermont ANTIQUING at its best! Located in the heart of Chittenden County in a
light & bright contemporary setting with 3800 sq. ft. of quality antiques.
Over 45 dealers constantly searching the hills of Vermont for treasures.
Our hours are Mon.- Sat. 9:30-5:30, Sun. 11:00-4:00

CHAMPLIN HILL ANTIQUES
Featuring delightful antique country & primitive furniture, with treasures including folk art,
mirrors, pewter, quilts and more at affordable prices.
Champlin Hill Antiques is a mandatory stop in the Burlington area
IRONSTONE ANTIQUES


39 North Street
Chester, Vermont, 05143
802-875-3611
> A true Vermont country setting. Our shop is housed in a Vermont barn,
heated by pellets. Specializing in untouched, 18th and 19 century,
New England Country Antiques, along with a large selection Country Primitives
and both English and American White Ironstone.
"Where Dealers Buy"
ANTIQUES COLLABORATIVE INC.
Rte. 4, Waterman Place
P.O. Box 565
Quechee, VT 05059
Vermont's premier center for antiques & fine art, with<>br 160 dealer displays on three floors of our converted
farmhouse. Open daily, 10-5, 1/2 mi. west of Quechee
Gorge at blinker light.
WIGREN-BARLOW ANTIQUES of WOODSTOCK
29 Pleasant Street
Woodstock, VT 05091
Phone: 802-457-2453
Browse through our winding farmhouse located on over an acre of manicured gardens,
in Woodstock, Vermont. See 19th century English and American fireplace and garden
accessories, farm tables, pine cupboards, chests of drawers, and desks.
Visit our collection of brass and silver pieces, as well as clocks, and antique china.
QUECHEE GORGE VILLAGE
5575 Woodstock Road
P.O. Box 730
Quechee, VT 05059
450 Antique and collectibles dealers under one roof.
Fine glass, primitives, jewelry, ephemera, toys.
Shop where the antique dealers shop.
Located on route 4 near Quechee Gorge open.
CHAMPLIN HILL ANTIQUES
Located one half hour south of Burlington.
Antique country and primitive furniture.
EARLY RIVER GALLERY
17 Main Street
Grafton, VT 05146
Fine Art, Antiques, Period Lighting, Custom Framing,
Antique Prints, and Limited Edition works of art.
Artists' in residence: Jim & Carol Duff MFA & MA
Send us e-mail.
Jeff & Holley Noordsy ANTIQUES
Specializing in Early American Glass
Cornwal, VT
THE ANTIQUE CENTER AT CAMELOT VILLAGE
60 West Rd.
Bennington, VT 05201
802-447-0039
Over 125 Dealers
ANTIQUING IN VERMONT'S WEST RIVER VALLEY
Lists 28 shops in the 55 miles of the West River Valley,
shows and other links of interest to antiquers.
Easy assess from I-91 in the southeast corner of Vermont
THE COUNTRY GALLERY ANTIQUES
PO Box 58
Rupert, VT 05768
Phobe: 802-394-7753
ON-LINE INVENTORY
Specializes in beautiful, restored, scrubbed pine furniture from
Denmark, Sweden, Finland and Norway. Also rugs, tramp art,china,
graniteware, enamel ware, needlepoint.
ANTIQUE QUILTS - Marie Miller
1489 Route 30
Dorser VT 05251
802-867-5969
KENNEDY BROTHERS ANTIQUE CENTER
11 Main Street
Vergennes, VT 05491
802-877-2975
1829 HOUSE ANTIQUES
Rt. 15 (2 1/2 miles E. of village) Jefferson, VT 05464
40 Dealers
e-mail:hover1829@aol.com

MIDDLEBURY ANTIQUE CENTER
On the corner of Rt. 7 & 116
East Middlebury, VT 05740
802-388-6229
50 Dealers
SMUGGLERS' NOTCH ANTQUE CENTER
Jefferson
Vermont
35 Dealers
EQUINOX ANTIQUES
29 Historic Main Street
Manchester Center
Vermont
Phone: 802-362-3540
Hours: 10-5 Year Round
Tom's Treasures
3295 US Route 7, Pittsford, VT 05763
(802) 483-2334
Specializes in fine arts, Oriental rugs, early American furniture and accessories.
Shop is housed in an antique cape and 19th century store front.
He offers design consultation, appraisals and custom framing.
closed on Thursdays from November 1 to April 1.
THE ANTIQUE PEW
(802) 483-2334
3325 US Route 7, Pittsford, VT 05763
Housed in a 19th century church which is a group shop with over 50 dealers.
Offer a good variety of early glassware, silver, jewelry, furniture, fine linens and Oriental rugs.
closed on Thursdays from November 1 to April 1.
PORTER MUSIC BOX CO., INC.
Rte. 66, Box 424
RANDOLPH, VT 05060
800-635-1938
TO FIND ANTIQUING ACTIVITY IN SPECIFIC CITIES & TOWNS****
---
Email us to get your site listed here.
NE Antiquing
---
To find local shops, with and without webpages, type in the word "antiques",
in the "category" box, then your desired city and state.
You may also search for specific types, for example, type in "antique furniture".




Return to State Pages.
Return to New England Antiquing
The items within are listed as a courtesy to the dealers owning the item, not as a Broker. No warranty is expressed or implied as to the quality or suitability of items or services "linked" from these pages.
---
Revised 07-16-10